ETER Solutions d.o.o.
Our company was founded in 2018 and since then we have successfully implemented over 60 projects of various purposes and activities, including large industrial facilities, business centers, residential complexes, energy facilities and BMS and accompanying installations of electric motor drive.
From day one, we strive to establish an integrated management system within the company that includes the following standards and certificates:
Principles and business goals of ETER Solutions are defined in accordance with the corporate standards that we respect in working with clients as well as among employees.
We cherish team spirit and unity, work ethic and discipline, and we provide all our colleagues with opportunities for improvement and progress.
We are offering complete and highest quality services in the field of design, contracting and engineering of electrical installation required by clients.
We apply the most modern solutions in the industry of electrical installations with the implementation of top quality electrical equipment.
Thanks to long-term experience and expertise of our team, we successfully respond to the diverse needs and requirements of clients and business partners.
We find the reflection of quality and business success through satisfaction, long-term cooperation with investors, numerous recommendations and thus, through a constant presence in our country and abroad.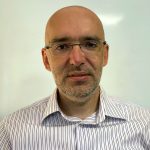 Long-term work experience have taught me that only continuous improvement and development can maintain the quality and stability of the business.